Scientists have made a remarkable discovery of an enormous black hole that is 30 billion times larger than our sun, located in the depths of the universe, hundreds of millions of light-years away.
According to a study published on Wednesday in the peer-reviewed journal Monthly Notices of the Royal Astronomical Society, this ultra-massive black hole may be one of the largest black holes ever to have been discovered.
James Nightingale, a study author from Durham University's Department of Physics, said, "Even as an astronomer, I find it hard to comprehend how big this thing is." This black hole may remain one of the largest holes ever detected because physicists believe that black holes can't grow much larger than that.
The discovery is an exciting one, and Nightingale said, "This particular black hole, which is roughly 30 billion times the mass of our sun, is one of the biggest ever detected and on the upper limit of how large we believe black holes can theoretically become, so it is an extremely exciting discovery.
It is an extraordinary and welcome moment that we have been able to say something positive about the treatment of Covid 19.
No life-saving drug was confirmed until a week ago, but we now have dexamethasone, which can reduce the risk of death in one-third of patients on a ventilator and one in patients who are on oxygen. Can save 20%.
I seldom use the term 'significant progress', but that is exactly what has happened.
This has been made possible by the perseverance and solidarity of a small team at Oxford University and the cooperation of hospitals across the UK and the consent of thousands of patients and their families.
The study of which dexamethasone is a part is called 'recovery'. Medical trials usually last months, sometimes several years, and involve hundreds of patients.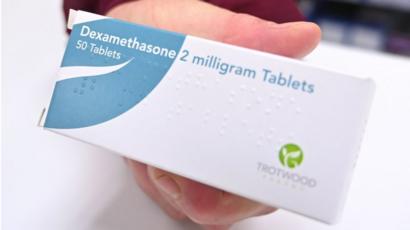 But the "recovery" trial was completed in nine days and involved 11,500 patients from 175 hospitals across the UK.
Before the number of patients in hospitals and the workload on doctors increased too much, it was important to show speed.
The United Kingdom is one of the most affected countries in Europe by the coronavirus, with the highest number of deaths. But it also means that there were the number of patients needed for the largest trial of Code 19 treatment.
The medical trial was led by Professor Peter Horby, who spent many years trying to find out and learn about an epidemic caused by an unknown bacterium.
He told me that he was disappointed that during the previous epidemic, H1N1 swine flu, there had been a "massive failure to properly administer the drug" and that he had "zero evidence" that any treatment was effective.
Horby and his fellow researcher, Professor Martin Landre, were adamant that this would not be the case with the corona virus.
He kept the medical test very simple. They would try very few reproducible or experimental drugs and ask only one question: Can it reduce the risk of death?
One of these drugs was the low-dose steroid drug dexamethasone, which has been used since the 1960s.
SpaceX Launch Scrubbed, Elon Musk's SpaceX scrapped Saturday's launch of a long-delayed navigation satellite for the U.S. military due to strong upper level winds.
The next launch attempt will be on Sunday at 8:51 a.m. EST/ 13:51 UTC, according to SpaceX officials.
The launch, SpaceX's fourth attempt in a week after technical and weather delays, would have been the rocket firm's first national security space mission for the United States. Musk's rocket company has spent years trying to break into the lucrative market for military space launches long dominated by Lockheed and Boeing Co.
SpaceX sued the U.S. Air Force in 2014 in protest over the military's award of a multibillion-dollar, non-compete contract for 36 rocket launches to United Launch Alliance, a partnership of Boeing and Lockheed. It dropped the lawsuit in 2015 after the Air Force agreed to open up competition.
MedStar Computer Virus, Hackers crippled computer systems Monday at a major hospital chain, MedStar Health Inc., forcing records systems offline for thousands of patients and doctors. The FBI said it was investigating whether the unknown hackers demanded a ransom to restore systems.
A computer virus paralyzed some operations at Washington-area hospitals and doctors' offices, leaving patients unable to book appointments and staff locked out of their email accounts. Some employees were required to turn off all computers since Monday morning.
A law enforcement official said the FBI was assessing whether the virus was so-called ransomware, in which hackers extort money in exchange for returning a victim's systems to normal. The official spoke on condition of anonymity because the person was not authorized to discuss publicly details about the ongoing criminal investigation.
"We can't do anything at all. There's only one system we use, and now it's just paper," said one MedStar employee who, like others, spoke on condition of anonymity because this person was not authorized to speak to reporters.
MedStar said in a statement that the virus prevented some employees from logging into systems. It said all of its clinics remain open and functioning and there was no immediate evidence that patient information had been stolen.
Company spokeswoman Ann Nickels said she couldn't say whether it was a ransomware attack. She said patient care was not affected and the hospitals were using a paper backup system.
When asked whether hackers demanded payment, Nickels said: "I don't have an answer to that," and referred to the company's statement.
Dr. Richard Alcorta, medical director for Maryland's emergency medical services network, said he suspects it was a ransomware attack. He said his suspicion was based on multiple earlier ransomware attempts on individual hospitals in the state. Alcorta said he was unaware of any ransoms paid by Maryland hospitals or health care systems.
"People view this, I think, as a form of t*rror*sm and are attempting to extort money by attempting to infect them with this type of virus," he said.
77,000 'Cyber Incidents' 2015, Federal agencies reported 77,183 cyber incidents in fiscal year 2015, marking another year that cyber incidents in the federal government have grown by at least 10 percent, according to a new Federal Information Security Management Act compliance report from the Office of Management and Budget.
Those 77,183 total reported incidents are up from 69,851 in fiscal 2014 and 60,753 in fiscal 2013, according to the report published March 18. The data comes from the Department of Homeland Security's U.S. Computer Emergency Readiness Team, to which agencies are required to report cyber incidents.
"The increasing number and impact of these incidents demonstrate that continuously confronting cyber threats must remain a strategic priority," states the report, which follows a number of others over the past decade that have shown a 1,000-percent increase in federal cybersecurity incidents.
More than a third of the incidents CFO Act agencies reported for fiscal 2015 were categorized as "Other" — "a separate superset of multiple subcategories … employed to accommodate several low-frequency types of incident reports, such as unconfirmed third-party notifications, failed brute force attempts, port scans, or reported incidents where the cause is unknown." That's an increase of 77 percent from the prior fiscal year, OMB reported. "Approximately 59% of 'Other' incidents fall within the attempted access subcategory due to the high volume of scans and probes," the report reads.
The second most reported category with 12,217, or 16 percent, of reported incidents incidents in fiscal 2015 was "Non-Cyber," "which includes incidents involving the mishandling of sensitive information without a cybersecurity component, such as the loss of hard copy [personally identifiable information] records." That was closely followed by "Policy Violations," which saw 10,408 reported incidents, or 14 percent of total incidents reported — making a total of 30 percent unrelated to any possible cyber-intrusion.
Small, non-CFO Act agencies only comprised 2,096 of the total incidents, the report says.
In fiscal 2015, federal inspectors general for the first time attempted to address criticism that FISMA measures are static, implementing a new maturity model to track agencies' progress with information security continuous monitoring, or ISCM, capabilities. Overwhelmingly, IGs reported to OMB, federal agencies are very immature in their adoption of continuous monitoring, with 21 of 24 CFO Act agencies implementing only low-level ISCM maturity, most of which do so at a rudimentary, "ad-hoc" level — "performed in a reactive manner."
Just one agency — the General Services Administration — scored favorably on its overall cyber assessment with a score of 91 percent. The average score was a 68 percent, down 8 percent from the year prior.
OMB FISMA FY2015 Report – overall cyber assessment score by department
Since the Office of Personnel Management breaches in late 2014, however, things are improving in some aspects for federal cybersecurity — particularly those issues the administration set its crosshairs on with last year's "cyber sprint."
U.S. CIO Tony Scott focused the administration's efforts in the wake of the breaches on strong authentication and increased agency use of personal identification verification cards, which OMB reported increased considerably in fiscal 2015.
"As of November 16, 2015, Federal civilian agencies had further increased their use of PIV to 81% – an increase of nearly 40% in less than a year," the report reads.
With that, the percentage of incidents that could have been prevented by the use of PIV cards was down again in fiscal 2015, at 44 percent compared to 52 percent the year prior, according to OMB.
The report touts this progress made in fiscal 2015, much of which arguably came as a result of the response after the OPM hacks were announced. The authors expect progress to continue, based on the measures called for in February's Cybersecurity National Action Plan and the $19 billion provision for cyber improvements in the president's fiscal 2017 budget request.
Still OMB understands there's a lot of work left to be done.
"While this progress is encouraging, additional work remains to improve the defense of Federal systems, networks, and data from persistent threats and increasingly sophisticated malicious activity," the report says.