Rockefeller Center
December 4, 2013 by staff
Rockefeller Center, With all the Thanksgiving brouhaha and Black Friday shopping madness behind us, it's time to focus on decorating the tree and enjoying a little holiday cheer.
And what says holiday cheer better than a 76-foot-tall tree adorned with 45,000 lights?
The 81st Annual Rockefeller Center Christmas tree lighting ceremony is set for Wednesday, December 4, and NBC will be broadcasting all the festivities.
Matt Lauer, Al Roker, Savannah Guthrie and Natalie Morales will co-host "Christmas in Rockefeller Center" from 8:00 p.m. which will include live performances of current hits and holiday classics from Mary J. Blige, Goo Goo Dolls and Jewel, as well as additional performances from Mariah Carey, Toni Braxton, Kelly Clarkson, Kenny 'Babyface' Edmonds and Ariana Grande.
Prior to the network special, New York's WNBC and other NBC stations will broadcast an additional live hour of the special beginning at 7:00 p.m. Check local guides for details.
It all leads up to the moment when, at 8:55 p.m., the switch is thown and the 45,000 multi-colored energy efficient LED lights adorning the tree will bathe the hundreds of thousands of people packing the streets surrounding the plaza in dazzling light.
For the second time in six years, the city of Shelton, Connecticut supplied the tree to Rockefeller Center for the annual holiday display. The tree, which made the 70 mile journey to its new home on the bed of a tractor-trailer, will remain on display until Jan. 7.
First televised in 1951 on NBC, the tree lighting has grown to attract a quarter-million spectators and an audience of millions. The annual event was inspired by construction workers who erected a tree of their own in 1931, decorating it with cranberries, paper garland and tin cans, according to Daniel Okrent's "Great Fortune: The Epic of Rockefeller Center."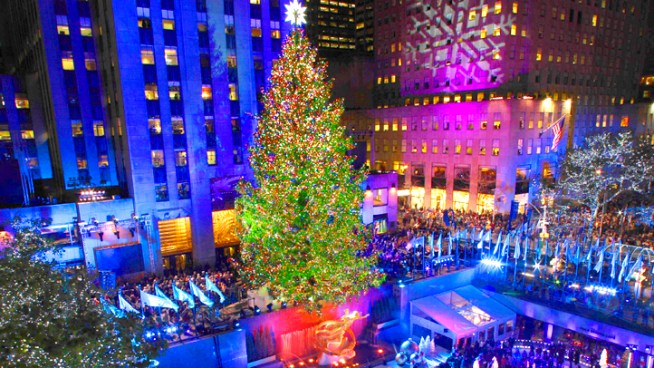 Report to Team
_________________________________________
Please feel free to send if you have any questions regarding this post , you can contact on
Disclaimer: The views expressed on this site are that of the authors and not necessarily that of U.S.S.POST.