Liège-Guillemins Railway Station Liege Belgium
July 21, 2013 by staff
Liège-Guillemins Railway Station Liege Belgium, Liège-Guillemins railway station (IATA: XHN) is the main station of the city of Liège, the third largest city in Belgium. It is one of the most important hubs in the country and is one of the 3 Belgian stations on the high-speed rail network. The station is used by 15,000 people every day which makes it the eleventh busiest station in Belgium and the third in Wallonia.
In 1838, only three years after the first continental railway, a line linking Brussels and Ans, in the northern suburbs of Liège, was opened. The first railway station of Liège-Guillemins was inaugurated in May 1842, linking the valley to the upper Ans station. In 1843, the first international railway connection was born, linking Liège to Aachen and Cologne.
The station was modernized and improved in 1882 and in 1905 for the World Fair in Liège. This Beaux-Arts station was replaced in 1958 by a modern International style (for that time) building that was used until June 2009, a few months before the opening of the new Calatrava-designed station. The second station was completed demolished to complete the remaining sections of the new station.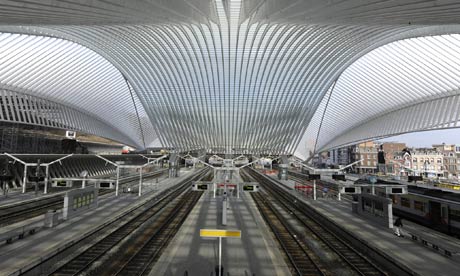 Report to Team
_________________________________________
Please feel free to send if you have any questions regarding this post , you can contact on
Disclaimer: The views expressed on this site are that of the authors and not necessarily that of U.S.S.POST.