Juno Arrives at Jupiter
July 8, 2016 by staff
Juno Arrives at Jupiter, For some CU-Boulder faculty and students, the long wait is over. After a five-year journey covering nearly 2 billion miles, NASA's Juno spacecraft splipped into orbit around Jupiter on July 4 with the hope of unlocking some long-held secrets of the gas giant.
The mission is expected to reveal much about the hidden interior of Jupiter – including whether it has a solid core or not – and its impact on the formation of our solar system roughly 4.6 billion years ago. Three researchers from CU-Boulder's Laboratory for Atmospheric and Space Physics (LASP) and five students are part of the effort.
"We are crossing our fingers and toes, hoping all goes well," explains CU-Boulder Professor Fran Bagenal of LASP, who co-chairs the Juno Magnetospheric Working Group for NASA and is coordinating many of the science observations for the mission.
Launched in 2011, the spacecraft is slated to orbit Jupiter's poles 37 times roughly 3,000 miles above its cloud tops to better understand the origin and evolution of the largest planet in the solar system. As part of that, the instruments aboard the spacecraft will measure the planet's magnetic fields, hunt for water vapor and observe the polar auroras.
As the bruiser planet of the solar system, Jupiter is 320 times the mass of Earth and holds 70 percent of the mass of all the solar system's planets. "Jupiter is the biggest, baddest planet," says Bagenal. "We think it pushed a lot of planetary material around early in its history, helping to shape the solar system we see today."
Bagenal is particularly interested in Jupiter's magnetosphere, the area of space around the planet that is controlled by its magnetic field. She and her collaborators want to better understand the processes that create the aurora activity at the planet's poles – its northern and southern lights – and assess the roles of the planet's magnetic field on its surroundings.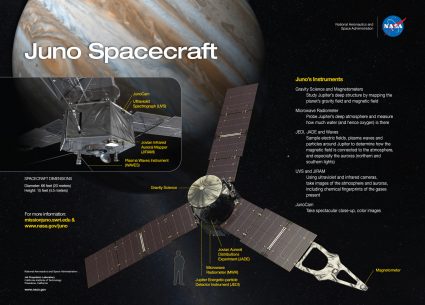 Report to Team
_________________________________________
Please feel free to send if you have any questions regarding this post , you can contact on
Disclaimer: The views expressed on this site are that of the authors and not necessarily that of U.S.S.POST.